During the #MeToo Era, there have been growing criticisms in academic circles against the "manel," or the all-male conference panel. Log on to social media and you're likely to see #nomoremanels hashtagged and trending, with some conference participants — like the head of the National Institutes of Health (NIH), Dr. Francis Collins — requiring female speakers and/or refusing to speak on panels that don't have one.
It turns out that such concerns are not new. In 1993, the manager of the Rockefeller Foundation (RF)'s Bellagio Conference Center raised the manel issue while reviewing plans for a landmark conference on developing an HIV/AIDS vaccine. As preparations went forward, the manager, Susan E. Garfield, advised the conference organizer, Associate Director of the RF's Health Sciences Division, Seth Berkley, to invite more women: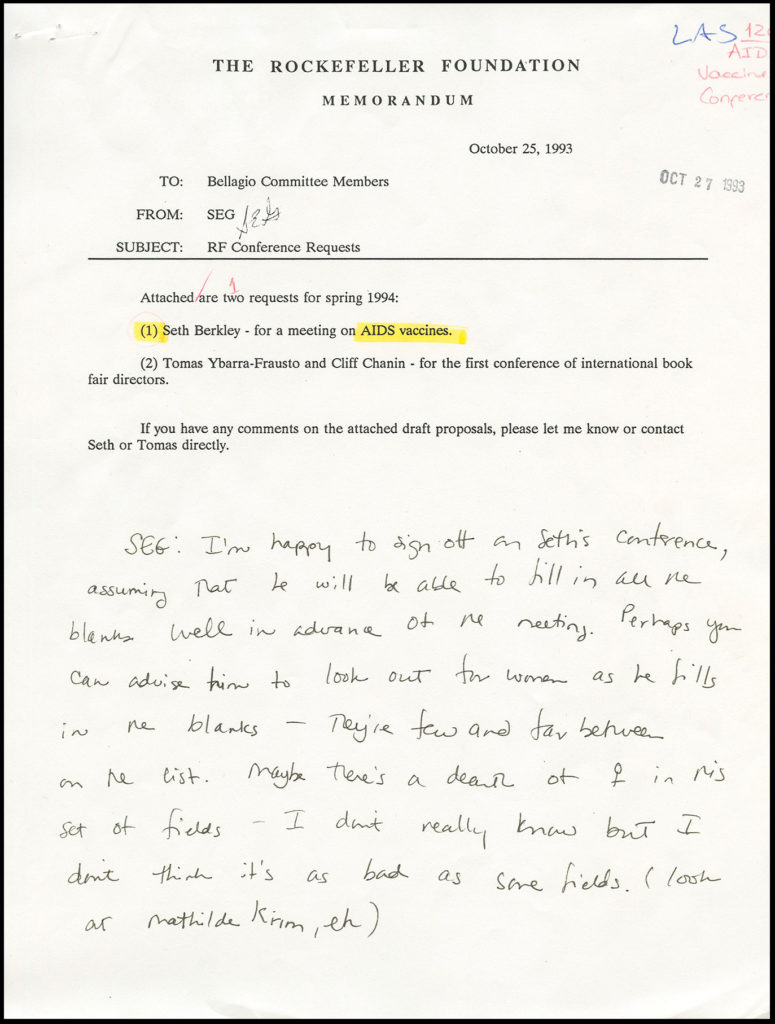 As an example of the kind of woman that would be a good attendee, Garfield pointed to Mathilde Krim, the RF's first female trustee who had founded the world's first private organization dedicated to AIDS research ten years earlier.
While Krim did not attend the conference (it is unclear if she was invited), three female scientists did: Jane Rowley, an RF fellow who would soon lead the International AIDS Vaccine Initiative, Britta Wahren, a leading Swedish virologist, and Margaret Johnston, Deputy Director for the Division of AIDS at the NIH. They comprised only a fraction of the total conference attendees — three out of twenty-three total participants — but nonetheless suggest that people have been critical of manels for longer than we think.