In 1961, Jane Jacobs published her seminal work, The Death and Life of Great American Cities. The book put Jacobs, then a reporter for the magazine Architectural Forum, on the map as a nationally-known opponent of urban renewal and modernist planning, which she criticized for sabotaging local neighborhoods and communities.
By the end of the 60s, Jacobs had emerged as the face of urban activism in New York City and across the country, highlighted by her defiant (and ultimately successful) efforts to block New York City Parks Commissioner Robert Moses from building the Lower Manhattan Expressway, a proposed road that would have connected the Williamsburg and Manhattan Bridges to the Holland Tunnel, and sliced through portions of Little Italy, SoHo, and the West Village.
Philanthropy played an important — yet little-known — role in Jacobs' meteoric rise to fame. In the 1950s, as concerns about the conditions of postwar American cities grew, the Rockefeller Foundation (RF) initiated efforts to build and shape the emerging field of urban design. In so doing, the Foundation encountered "Downtown is for People," one of Jacobs' most famous articles that foreshadowed her arguments in The Death and Life of Great American Cities. The piece was widely praised by leading academics and policymakers, prompting the Foundation to recognize the fiery author as a potential star in the field of urban studies.
Eventually, at the urging of Chadbourne Gilpatric, Associate Director of the RF Humanities Division, the Foundation supplied Jacobs with several grants — totaling $18,000 over roughly two years — to take time away from her reporter's job and devote herself to writing her book. Without this RF funding and Gilpatric's patient, steadfast support, Jacobs might never have had the opportunity to write her groundbreaking work. For Jacobs' grant files, see "New School for Social Research – Jacobs, Jane – (Urban Planning)," Rockefeller Foundation records, SG 1.2, Series 200R, Rockefeller Archive Center.
But in retrospect, this support has an ironic twist: while the RF was backing Jacobs, it was simultaneously fostering the development of Lincoln Center, a project championed by her arch-nemesis, Robert Moses, and criticized vociferously by Jacobs in "Downtown is for People." Despite backing Jacobs' scholarship, the Foundation did not always support the causes backed by Jacobs herself.
---
Related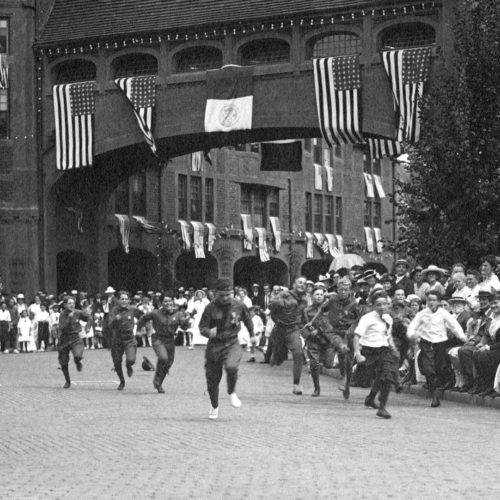 Issues in Philanthropy
An early twentieth-century foundation tried using its endowment to support for-profit projects that also would achieve a social goal.