Our central problem in the program in literature is to define clearly what contribution to 'human welfare throughout the world' we expect to achieve through support to projects in this field.

Charles B. Fahs, 1950Literature: Notes for preliminary discussion by Humanities staff by Charles B. Fahs, January 5, 1950, Rockefeller Archive Center (RAC), RG 3, Series 911, Box 1, Folder 5.
In pondering this question in 1950, Charles B. Fahs struggled to understand what role, if any, the Rockefeller Foundation (RF) should play in the literary life of America. The question vexed the staff of the Humanities Division for years but eventually led to the creation of a successful, but short-lived, program to aid the careers of American writers.
A Shot in the Dark
As early as 1938 the Foundation had supported a nascent program in Latin American literature. In 1945 it had initiated its "Atlantic Awards," which enabled dozens of British novelists, poets and playwrights to travel to the United States after the World War II. Apart from fellowships in playwriting in the 1930s, the earliest Foundation program providing broad support for American literary life was a series of fellowships and grants to literary journals in the 1940s.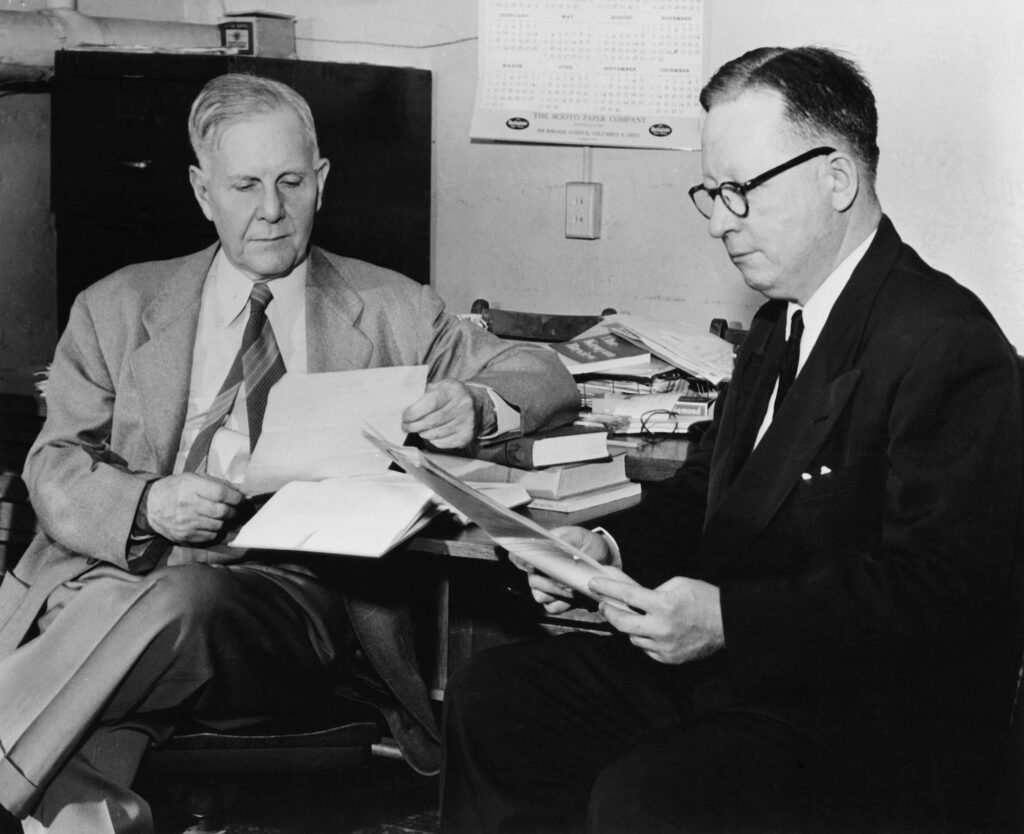 The first journal to receive support was The Kenyon Review. Inaugurated in 1939, The Kenyon Review quickly gained a reputation as an outstanding literary magazine that published the work of many young writers who went on to notable careers. Despite its reputation and influence, The Kenyon Review struggled financially and sought support from the RF as early as 1941. In his quest for assistance, literary critic Richard Blackmur wrote to his friend John Marshall, "I mean only to fire a shot in the dark; if there was a target hit, good; if not, not."Extract of letter from Richard Blackmur to John Marshall, January 22, 1941, RAC, RG 1.2, Series 200R, Box 358, Folder 3242. Marshall initially refused the request, noting that the RF had no mandate to provide the type of support that Blackmur was seeking. However, only two years later funding was granted to The Kenyon Review for the hiring of fellows and to increase compensation to journal contributors. RF continued to support the journal until 1958, but persistent financial problems eventually forced it to close in 1969. A decade later The Kenyon Review resumed publication and has survived without additional Foundation support.
A Radical Departure
In 1964 a broader program in literature began under the RF's Cultural Development initiative. This program included grants to American writers to nurture their creativity and career development. The "Imaginative Writing and Literary Scholarship" program was approved on an experimental basis, with an allocation of $150,000. Foundation officers were able to fund writers of fiction, non-fiction or poetry.
Related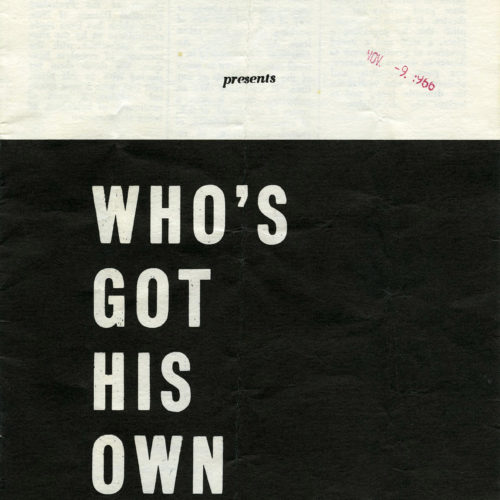 Race & Social Justice
Against a backdrop of white, establishment concepts of literary excellence, one foundation struggled to appreciate Black voices.
In initiating this creative writing program, the Foundation was seeking to fill a gap recognized by RF trustees. Throughout the 1950s and into the early 1960s, the Humanities Division had paid very little attention to supporting the field of literature. Writers were neglected at least in part because writing was considered a solitary endeavor, and writers were not affiliated with universities or other institutions through which the RF had traditionally filtered its support. In 1963 RF trustees urged the Foundation to return to older ways of supporting culture. In an internal memorandum summarizing the trustees' attitudes toward the Cultural Development program, Kenneth W. Thompson wrote,
For the most part important cultural achievements have come about through 'patronage.' The history of Renaissance art testifies to the need of this practice. The Trustees urged us to explore this area.

Kenneth Thompson, 1963 Memorandum from Kenneth W. Thompson to Rockefeller Foundation Officers, December 27, 1963 (emphasis original), RAC, RG 3.2, Series 925, Box 1, Folder 2.
"Imaginative Writing and Literary Scholarship" was a radical departure from typical Rockefeller Foundation programming: grants were provided directly to writers working outside of established institutions. Furthermore, grants were provided with no expectation of producing a particular work. Writers were given funds that allowed them to travel, seek inspiration, or simply pay their bills while devoting themselves to a year or more of writing. The completion of projects was encouraged and welcomed but was not obligatory.
The Foundation did not embark on its creative writing program without consultation and planning that lasted for more than a decade. Starting with the broadest possible questions, the Humanities staff members discussed the very purpose of supporting literature. In January 1950 they had asked,
If the net influence of literature is nil, what justification is there for spending RF funds? If the influence is significant in amount but questionable in desirability, what justification have we for spending RF funds? …What do we know about the influence of literature on either individuals or society?

Charles Fahs, 1950Literature: Notes for preliminary discussion by Humanities Staff by Charles B. Fahs, January 5, 1950, RAC, RG 3, Series 911, Box 1, Folder 5.
Later discussions focused on how RF involvement could distinguish itself from other funding available for American writers. What could the RF contribute based on its previous experience? How did literature fit into its existing programs? Once the decision was made to increase funding for literary programs, the question became who to support and how to administer the funds.
The Selection Process
In 1951 the Foundation sought the advice of the novelist Saul Bellow. He was commissioned to write a report on the responsibility of the novelist in society. He played an integral role in the RF's program in literature, eventually serving on the advisory committee that helped to shape the program and to choose award recipients in the 1960s. Writers were considered after nominations were solicited from established writers and educators; applications were then sought from the writers themselves. Some recipients, like Cormac McCarthy, were just beginning their careers, while others, like Philip Roth, were further along but still in need of financial assistance. The roster of RF-funded writers is a distinguished one, including Elizabeth Bishop, Ralph Ellison, Susan Sontag, Hubert Selby, Richard Yates and John Irving.
The program remained experimental and subject to constant reassessment throughout its existence. Lobbying on the program's behalf in 1969, Bellow wrote of the program:
I understand that the future of individual grants is very uncertain and I should like to emphasize one fact, namely, that artists are individuals and that foundation support of collective enterprises only would be damaging to the artist and to American culture … This Foundation has had an extraordinarily successful program of literary grants over the last four years. The record shows how much good has been accomplished and I strongly urge the continuation of this program.

Saul Bellow, 1969Inter-office correspondence dictated by Saul Bellow, May 28, 1969, RAC, RG 3.2, Series 911, Box 5, Folder 2
Despite Bellow's protestations, the literary program came to an end in 1969.
Through the 1970s and the 1980s, writers continued to receive support through a long-standing program of Fellowships for American Playwrights and other Arts and Humanities grants. The Foundation saw writers' voices as an important means of connecting peoples and transmitting ideas across national and societal divides. Support was provided to PEN, an international organization for creative writers, to fund annual congresses and festivals, and to aid new PEN chapters. Since the 1960s the Bellagio Center has also served as a creative space for writers, critics, and literary scholars, from Saul Bellow, Wayne Booth and Maya Angelou in the 1960s and 1970s to Michael Ondaatje, Susan Sontag and Jeet Thayil in more recent decades.
---
Research This Topic in the Archives
Explore this topic by viewing records, many of which are digitized, through our online archival discovery system.
---
The Rockefeller Archive Center originally published this content in 2013 as part of an online exhibit called 100 Years: The Rockefeller Foundation (later retitled The Rockefeller Foundation. A Digital History). It was migrated to its current home on RE:source in 2022.